Filter by Category
High School
Rocking the Repertoire for Grade 10-Adults
with Michelle Kasanofsky

Jan 25, 2021 at 6:30 pm

, runs for 5 weeks
This class for grade 10 through adults is designed to augment your song book with more modern music for auditions, especially focusing on audition pieces from sources other than musical theatre. Interpretation as well as song choices will be discussed and worked on. This class will use a hybrid model of group collaboration (Sessions 1, 3 and 5) and private lessons (Sessions 2 and 4).
LINKS:
Will run
Girls Just Want to Have Fun. For Grades 6-12
with Luke McFatrich

Jan 27, 2021 at 6:30 pm

, runs for 6 weeks
This class will look at practical applications of examining innovative and classic female-based production numbers from shows like Mean Girls, Legally Blonde, and Oklahoma. Luke McFatrich and Michelle Kasanofsky will teach singing and movement for two to four group numbers that you'll perform with and for each other.
Will run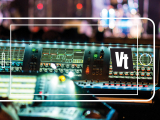 Listen! Look! Illuminate! Technical Theatre Workshop Series for Grade 9-Adult
with John Andzulis

Jan 28, 2021 at 4:30 pm

, runs for 3 weeks
John, Jasmine, and Brian will highlight the weird, the wild, the complicated, and the magical aspects of technical theatre. In this workshop series, you'll explore sound, scenic techniques, and lighting design. Class instructors subject to change.
Meet Your Instructors:
Don't forget to look over the important info and paperwork!